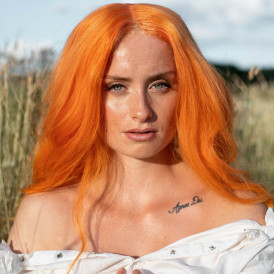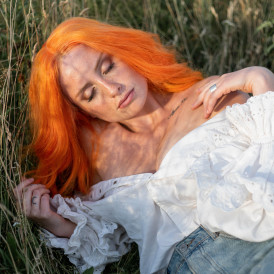 "Come for Me" is the second single from Agnes Hustler this year, releasing August 26th.

Supporters will share 70% of the song's royalties. The money will go to PR so that more people can discover my music AND the making of a music video. The more people that listens, the more profit for my fans 🧡

P.S All backers will be invited to an intimate but covid-free release party on the release day...

Money will be spent on:
Video
PR
About the music
You know the feeling of working very hard for a long time but not having anyone to share life with?

Have you tossed and turned so many nights it made you think that loneliness can kill you?

I wrote "Come for Me" on one of those nights.

Now I know there's love for everyone, there's just a whole bunch of trash to go through before you find it.

About Agnes Hustler
Stockholm-based Agnes Hustler stands out on the pop and soul scene with her powerful voice, orange hair and unapologetic energy. Several singles and EP "Songs to a Nation" released in 2019 proved the amplitude of Agnes's singing, songwriting and production skills. Working as an actress alongside her music career, Agnes's visual content is an essential part of her music and artistry - she directs her cinematic videos herself.

Her debut single "My Atmosphere" and the debut EP "Songs to a Nation" was critically acclaimed by Swedish media, including Radio Sweden and music journalist Per Sinding-Larsen;

"What I like about Agnes is that she's fearless and explores different expressions in music and in her voice - great singing efforts in a wide register as well as rap."
- Fredrika Johansson, Sveriges Radio

Agnes's first tour as a solo-artist followed in the summer 2019.

2020 is said to be the year for Agnes. Her first single of the year, 'Say My Name, Say Money' ft. NTÏV, has been compared with Rihanna's "Bitch Better Have My Money" by critics.

Songwriter
Musician
Singer
Dancer
Actress
Corite is a fan funded marketing platform where artists and fans come together for a common goal. Find a campaign you like, make a contribution and get paid for one year when it's streamed, based on the size of your share. Backing a campaign means supporting dreams, independent artists and contributing to a more transparent and sustainable music industry. And remember music is a work of art, this isn't Wall Street.