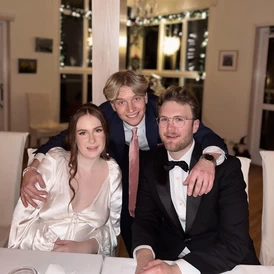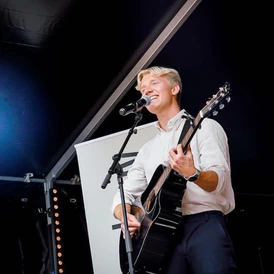 ALLA KAMPANJINTÄKTER GÅR TILL CANCERFONDEN!

När Elin, 22 fick det chockartade beskedet att hon var döende i obotlig cancer började hon och hennes fästman Albin planera både för bröllop och begravning. Den 3/12 - 2022 gifte de sig äntligen framför nära och kära, och vännen Andreas Palm skrev en låt för att sätta ord på det inspirerande mod som kärleksparet visat för omvärlden. "För oss två" släpps i samband med galan Tillsammans mot cancer.

Tillsammans kan vi göra skillnad, och det vore fint om du också ville vara med!
-

ENG
Elin and Albin's love story is one of strength and resilience in the face of unimaginable challenges. When Elin, just 22 years old, received the devastating news that she was diagnosed with incurable cancer, the couple decided to not let the illness define their future. They bravely planned for both their wedding and funeral, determined to make the most of their remaining time together.

On December 3rd, 2022, Elin and Albin exchanged vows in front of their loved ones, surrounded by love and support. Their friend Andreas Palm even wrote a song, "For Us Two," to honor the couple's inspiring courage and strength.

Now, we have the opportunity to support cancer research and make a difference in the fight against cancer. The proceeds from this campaign will go directly to the cancer fund 'Cancerfonden', and we invite you to join us in this effort. Together, we can help make a positive impact and support those affected by this devastating disease.

Money will be spent on:
Cancerfonden
About the music
När Andreas bästa vän Albin Fagrell frågade om han kunde sjunga en låt på parets bröllop blev det svårt att få fram vad han verkligen ville säga. Andreas beslutade sig istället för att skriva en låt som en hyllning till deras mod och om kärleken som aldrig kommer skilja dem åt. Låten kom till Andreas direkt samma kväll.

"Det var väldigt ärofyllt och känslosamt att sjunga låten inför brudparet av så många anledningar. Det första Elin sa var att jag måste släppa låten. Det var fint att kunna svara att den redan då var inspelad.", säger Andreas Palm om låten.

About Andreas Palm
Andreas kommer från den välkända "idolstaden" Lindesberg men bor idag i Stockholm och satsar helt på musiken. Inspirationen till sitt skapande kommer från artister som Ed Sheeran, Oskar Linnros och Benjamin Ingrosso och under 2023 kommer det släppas ännu mer musik och fokuset kommer ligga på att skriva och spela sin musik runt omkring i hela Sverige.

Det finns ingenting annat jag kan tänka mig förutom att jobba med musiken, säger Andreas. Musiken har alltid funnits med och de senaste åren har låtskrivningen blivit ett verktyg för att uttrycka sig, tuffa som fina stunder i livet.

Andreas började tidigt jobba med sitt artisteri i pojkbandet Skyscraper. Idag är han bl.a musikalartist i Noice - Rockmusikalen. En dröm är att få dela sin egen musik och låta andra finna tröst, stöd och glädje i hans musik. Att kunna få beröra människor och få dem inse sitt värde är något Andreas alltid tyckt varit otroligt viktigt, vilket han även vill förmedla med just sin musik.

Corite is a fan funded marketing platform where artists and fans come together for a common goal. Find a fan campaign you like, make a contribution and get paid for one year when it's streamed, based on the size of your share. Backing a fan campaign means supporting dreams, independent artists and contributing to a more transparent and sustainable music industry. And remember music is a work of art, this isn't Wall Street.