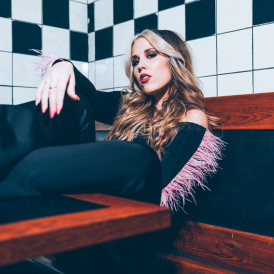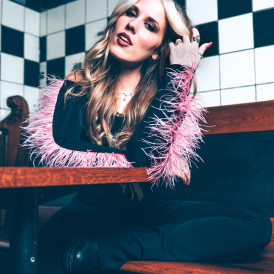 Heeey bästa ni!!!

3, 2, 1... NU SLÄPPER JAG MIN NÄSTA LÅT!

Den här låten är jag så himla taggad på att visa er. "Ingen Ängel" är min andra singel på svenska och är en "slap in the face" energisk, pop/rock låt som man vill dansa hela natten till. Låten handlar om att vara lite för mycket, ta beslut man kanske vet man inte borde men ibland måste man bara leva lite on the edge och riska lite för att vinna mycket.

Jag är så oerhört överväldigande tacksam för allt ert stöd för min förra release "Tack, Jag Mår Bra" och jag hoppas att ni ska ta emot "Ingen Ängel" med lika öppna armar. Det är som ni vet fett tufft att vara en independent artist och er hjälp gör otroligt mycket för min möjlighet att kunna släppa musik med allt som det innebär. Tusen tack för allt ert stöd och hjälp, ni är verkligen helt ovärderliga <3

Den 4/2 2022 hoppas jag att vi ALLA kan skriksjungdansa till "Ingen Ängel" i natten. ÄR NI REDO??????

PUSS
Ellen

//

Heeey lovers!

3, 2, 1... I'M RELEASING MY NEW SONG!

I'm beyond excited about this song and I can't wait to show it to you guys. "Ingen Ängel" is my second single in Swedish and it's a total "slap in the face" energy high, pop/rock song that you wanna dance all night to. The song's about being way too much, doing dumb shit you know you shouldn't do but what the hell something you gotta live a little on the edge to win a lot.

We all know how crazy tough releasing music as an independent artist, and all of your amazing support helps me get my music out there to a huge audience. A million thank you for all the support and help, you guys are really beyond irreplaceable <3

The 4/2 2022 I hope we can ALL dance together until we can't stand to "Ingen Ängel". ARE YOU READY?????

LOVE,
E

Money will be spent on:
Production
Photo
Ads
PR
About the music
"Ingen Ängel" är en "slap in the face" låt man vill skrikdanssjunga till natten lång. Den handlar om att vara lite för mycket - hela tiden, ta dåliga beslut man vet man inte borde ta men ibland måste man bara leva lite on the edge och riska lite för att vinna mycket. Jag hade massor av delar av texten nedskriven i mina anteckningar på mobilen under lång tid men visste inte riktigt hur jag ville formulera mig tills jag satt i en session nere i Malmö i höstas och allt kändes självklart.

//

"Ingen Ängel" is a "slap in the face" kinda song that you wanna dance to all night long until you can't stand up anymore. It's about being a little too much - all the time, making bad decisions you know you shouldn't make but sometimes you just gotta live a little on the edge to win a lot. I had the lyrics to this song in my phone for forever until it all came together like it had always been there in a session in Malmö last autumn.

About Ellen Benediktson
3 gånger i Mello och 6 år på majorbolaget Warner Music har gett mig mycket erfarenhet och sjukt roliga upplevelser. Jag har tagit mig både till final, andra chansen och åkt ut en gång så känner att jag verkligen gjort allt och är nu redo för nya utmaningar och spännande projekt. Som låtskrivare är det viktigt för mig att berätta en story och jag vill att mina låtar ska tilltala en bred publik. Mina texter är fulla av självdistans och en smula humor men samtidigt ärliga och sköra. Pop/rocken har varit det jag lyssnat på när jag var yngre och det känns helt naturligt att äntra den bannan som artist nu. Det är dags att folk får lära känna Ellen Benediktson utanför Mello-bubblan och med detta projekt bjuder jag in till just det.

//

Participating 3 times in the Swedish Eurovision Song Contest and 6 years at the major label Warner Music has given me a ton experience and a lot of really fun adventures. I made it to the Swedish Eurovision final, wound up the Second Chance stage and lost once…so I can definitely say I've done it all. Now I'm ready for new challenges and exciting projects. As a songwriter it's important for me to tell a story and I want my songs to reach a wide audience. My lyrics are self aware, sprinkled with some irony and humor but still honest and vulnerable. I've always listened to Pop/Rock growing up so it feels totally natural to step into this scene as an artist myself. It's time people get to now the Ellen Benediktson outside of the Eurovision bubble and with this project I've inviting you all in to just that.

Songwriter
Musician
Singer
Corite is a fan funded marketing platform where artists and fans come together for a common goal. Find a campaign you like, make a contribution and get paid for one year when it's streamed, based on the size of your share. Backing a campaign means supporting dreams, independent artists and contributing to a more transparent and sustainable music industry. And remember music is a work of art, this isn't Wall Street.