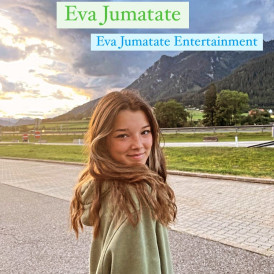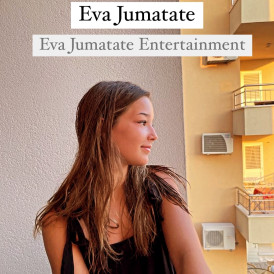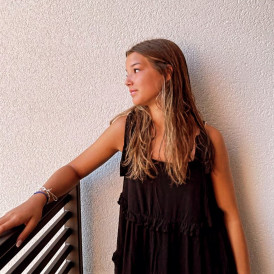 Hi,

I am Eva Jumatate. A 14 years young artist. This is my first self-written song. My whole heart went into this song and I want you to be apart of it!

"Round and Round" is a song about love and the struggle revolving love. Even though love has its ups and downs you should never give up on it because it will always come back around ❤❤❤

Money will be spent on:
Production
Video
About the music
I began singing when I was 9 years old. I have had five amazing years with joy, happiness, dreams coming true, and wonderful people around me. I am so grateful for all of you! ❤

At times it has been difficult to reach out to you, to find the way, my way, as an artist. But here I am... me, myself and I... with my own music from all of my heart.

Hope you like it and thank you for all your support! ❤

Eva Jumatate

About Eva Jumatate
I began singing when I was 9 years old.

In 2019 I competed in the TV show "Sweden's Got Talent" and became the runner-up to winner in the final. Shortly after "Sweden's Got Talent" I performed in Gothenburg guesting the "Lotta på Liseberg" show. It was amazing! I had recorded four songs: "Trouble", "Boom...Here I Am", "This World Is Ours" and "Jul i hela stan".

I am also in love with musicals. I played Matilda in the musical "Matilda" on Malmö Opera.

I love fantasy and I like to dream with open eyes, so, I also had the main role in "Alice in Wonderland".

Rock is great, now I am playing Tomika in the musical "School Of Rock!" 🎸💯🎼.

"Round and Round" is my debut single, a pop song written by me and orchestrated by Calin Ionce, a great Romanian composer.

My hole heart is in this song, it's how I feel. Sometimes it's hard to reach out to the people, to find the right message in you. But don't stop to be anyone else except yourself! Cause we are just great as we are! ❤

Songwriter
Musician
Singer
Dancer
Corite is a fan funded marketing platform where artists and fans come together for a common goal. Find a fan campaign you like, make a contribution and get paid for one year when it's streamed, based on the size of your share. Backing a fan campaign means supporting dreams, independent artists and contributing to a more transparent and sustainable music industry. And remember music is a work of art, this isn't Wall Street.