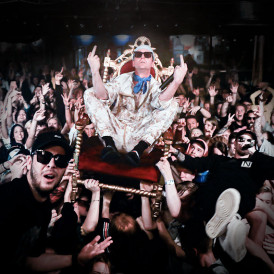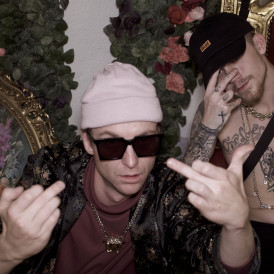 Jag tror inte de undgått mina åskådare eller mina försvarare att detta är en av de allvarligaste dagarna i hela mitt liv.

Sen jag började göra musik så feta vita rika män försökt ge mig pengar.
De har försökt att ge mig pengar så jag skall inskränka min konstnärliga frihet för en produkt som de kan sälja.

Jag är inte längre intresserad av att göra feta vita män rika, för det är inte dom som hypar mig i slutändan.

Det är ni.

Så nu tycker jag att vi gör så här, att när KINGEN har sålt guld.

Då delar vi på pengarna, och sen har vi en FET JÄVLA FEST I ETT SLOTT.

Så klart kan ni inte lita på en pundare som mig, så därför står Corite för att allt kommer att fungera.

Det verkar som att alla tror att mitt liv är en jävla reklamfilm.

Money will be spent on:
FET FEST I SLOTT
About the music
Frej Larsson och Robin Yaas har slagit ihop becknarväskorna till en riktigt dunderbanger. Blåset är riktigt denna gången inga jävla skeva sampelspacks, och liksom låten så real det bara kan bli.

Häng med på denna resa i TRAPens tecken och bli rik!

Vi ses framåt småtimmarna....

About Frej Larsson
- Mamma får jag gå på fest?
- Självklart det behöver du väl inte ens fråga om.
- Med Frej Larsson
- Fråga Pappa
Om mamma får följa med.

Frej Larsson har knullat allas morsor och därför är allas farsor sura på honom. Du är förmodligen hans barn.

Songwriter
Musician
Singer
Producer
Corite is a fan funded marketing platform where artists and fans come together for a common goal. Find a campaign you like, make a contribution and get paid for one year when it's streamed, based on the size of your share. Backing a campaign means supporting dreams, independent artists and contributing to a more transparent and sustainable music industry. And remember music is a work of art, this isn't Wall Street.