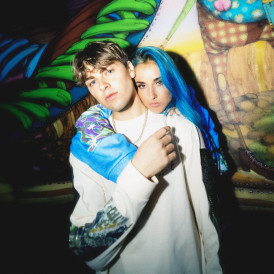 We really love this song and want to show it to the world. We are doing the campaign together with you to increase our marketing- and PR budget. We believe that together we can make "Never Change" the big hit it deserves, Hugs ISA and GROUNDSTROEM <3

Money will be spent on:
Ads
PR
About the music
We're so excited to release our new single "Never Change" which was written and performed by us. "Never Change" is our first time doing a duet together! We want to use the fundings for marketing to spread the song to the world. Hope you wanna be a part of it:)
To us Never Change is about living in the present, doing what you want even when the world tells you not to. You should be able to make your own choices in your everyday life that doesn't fit into norms and unwritten rules. Never change who you are based on some else's truth. We really hope you enjoy it!

About ISA, Groundstroem
ISA

22 year-old artist, producer and songwriter ISA released her Debut Album spring 2019 on her own label Licious music. With her music's creative, confident and international sound ISA shows her potential to take on the entire world.

"I want to be a role model in daring to express confidence, emotions and to acknowledge all of your imperfections. Stand out. Since it's been and still is a struggle for me in finding a healthy relationship with myself, I hope I can inspire others by sharing what I feel. I love music since it gives me the opportunity to turn my feelings and thoughts into art. In my unreleased material my femininity and my own perspective of how girls should be looked at is reflected and I couldn't be more excited about sharing it with the world."

GROUNDSTROEM

Young Swedish pop artist and songwriter GROUNDSTROEM released his his first two singles "Sunset Trouble" and "Fix" with Corite during the spring of 2020.

The music is inspired by artists like The 1975, Post Malone, Chris Brown and Lauv. He's influenced by styles and sounds that are different from each other and interprets that into his own.

"My goal is to make a soundtrack for people's lives. We wake up, go to bed, go to work, go out, feel lonely or like we belong. I feel like all these different emotional states and moments need their songs."

Songwriter
Singer
Dancer
Producer
Corite is a fan funded marketing platform where artists and fans come together for a common goal. Find a campaign you like, make a contribution and get paid for one year when it's streamed, based on the size of your share. Backing a campaign means supporting dreams, independent artists and contributing to a more transparent and sustainable music industry. And remember music is a work of art, this isn't Wall Street.