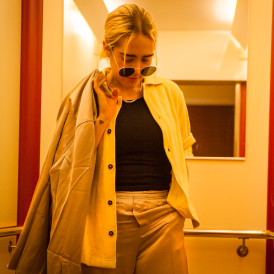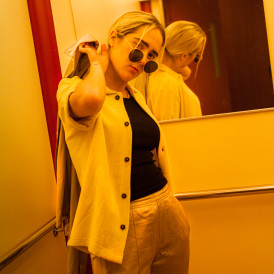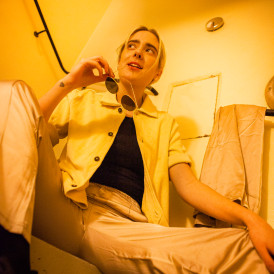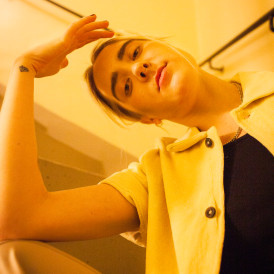 Hi! I'm Julia Alfrida and I'm back with Corite for my next release GIRLS GIRLS GIRLS. When I started playing it to people and saw their reaction, then I understood the potential of this song. Now I'm showing it to you guys and hopefully you will react the same way as my friends when I first played it out loud - it's been said it's a hit and I can't think of a better way than to release it together with you.

To make things even more fun, you can invest on different levels that gives you a bit extra content along the way.

1st BASE BACKER (25 USD)
Cover art reveal one day after you've backed

2nd BASE BACKER (35 USD)
Full lyric reveal one week before release

3rd BASE BACKER (45 USD)
Full song reveal one week before release

All of the above will be sent out via e-mail from Corite.

Money will be spent on:
Video
Ads
PR
About the music
"GIRLS GIRLS GIRLS" is the cocky and provocative lesbian anthem that will make you dance no matter what.

Written by:
Elin Namnieks
Julia Alfrida Ridderdal
Niko Lindhé
Niklas Jahr

Release date: April 30th 2021

About Julia Alfrida
25 year old Julia Alfrida is an artist from Stockholm, Sweden who we see have a lot coming her way in the future. This year she competed for the first time in Swedish Eurovision Song Contest with her song "Rich" with a memorable performance that both included her niece, granddad, combat boots and sign language.

The career kicked off real good as she released her first single "HER" summer 2019, that then led to her doing a guest appearance on Swedish national television to talk about the LGBTQIA+ message of the song. This then led to her performing live at Sthlm Pride, Copenhagen Pride among other great locations.

"Many of the songs I write reflects the dark and light sides of me growing up to become the person I am today.

I believe growing up as an LGBTQIA+-person & being highly sensitive has been a major reason for my mental health struggles. But it has also showed me many upsides like ability to feel, put things in perspective and express myself creatively for example. It has given me a rich emotional life and for that I'm grateful", Julia Alfrida says.

Songwriter
Singer
Corite is a fan funded marketing platform where artists and fans come together for a common goal. Find a campaign you like, make a contribution and get paid for one year when it's streamed, based on the size of your share. Backing a campaign means supporting dreams, independent artists and contributing to a more transparent and sustainable music industry. And remember music is a work of art, this isn't Wall Street.