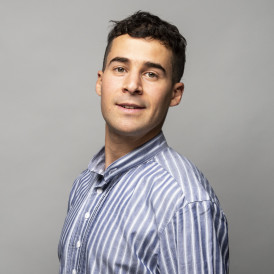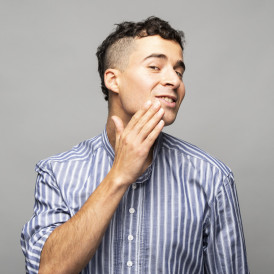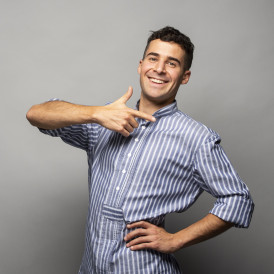 (Castellano debajo)

Help me finance my first-ever music video and a new music release!

"Haunted House" was written in collaboration with my sister Guadalupe for her project Songs For Runaway Girls in 2014, a project that marked my debut as a composer and performing artist, and that took me on my first tour abroad in Canada that same year.

The version we are releasing was recorded in Germany in 2019 as part of the sessions for Unterwegs, and it features the world-class musician Pablo Méndez (Dee Dee Bridgewater, Tryo, among others) on electric bass and percussion. I've been wanting to make a music video for some time and when I discovered Corite, a platform that allows fans to invest in their artists' work while getting a share of the song's streaming royalties, I thought it would be a nice opportunity to bring the song back and try to make it work.

I'm thrilled by this model where supporters can invest directly in their favorite artists' works and get a share of their success. I find it not only fascinating but also a great opportunity for change towards a more real and meaningful relationship between music makers and fans, in a moment where music has become more and more impersonal and often left to the will of an algorithm.

No more than ten years ago, live music was still the way to discover new music and get to know the people creating it, but this has changed now. Even if the share of streaming royalties is at best symbolic, given the stingy payments from streaming companies, I believe the kind of interaction that Corite proposes is still a bet on the future of the music industry worth exploring, and I hope you feel as excited about this as I am!

–

¡Ayudenme a financiar mi primer video musical y un nuevo single!

"Haunted House" fue escrita en colaboración con mi hermana Guadalupe para su proyecto Songs for Runaway Girls en 2014, el cual marcó un antes y un después en mi trayectoria como músico, llevándome en mi primer tour por Canadá ese mismo año.

La versión que estamos lanzando fue grabada en Alemania en 2019 como parte de las sesiones de Unterwegs, y cuenta con la participación del músico Pablo Méndez (Dee Dee Bridgewater, Tryo, entre otros) en bajo y percusión. Estuve esperando el momento de hacer un video musical durante algún tiempo y cuando descubrí Corite, una plataforma que permite que los fans inviertan en artistas a cambio de una parte de las regalías por streaming de la canción, me pareció una linda oportunidad de recuperar la canción y publicarla.

Me genera muchísimo entusiasmo este modelo en el cual se puede invertir directamente en el trabajo de artistas y compartir una parte de las ganancias. No sólo me parece fascinante sino que también me parece una gran oportunidad de cambio hacia una relación más real y significativa entre creadores y fans en un momento en el cual la música se ha vuelto más y más impersonal y a menudo abandonada a la voluntad de un algoritmo.

Money will be spent on:
Production
Video
About the music
(Castellano debajo)

Is it a love song? Is it the soundtrack for a broken heart? If you find out, let me know, as I'm still trying to figure it out myself. The fact is that when we were working with engineer and producer Ariel Schlichter on the release of my last album, Unterwegs (2020), there was something about Haunted House that gave us the feeling that it belonged to its own particular universe, and that it deserved a separate release.

The song was written in collaboration with my sister Guadalupe in 2014 for her project Songs For Runaway Girls, the soundtrack to her novel Air Carnation (Book*hug Press, Canada, 2014). I was in my early twenties and her invitation turned out to be a great chance for proving my commitment to my craft and led me to think that my dream of becoming a composer was actually possible.

Over the past years since 2018 that I have spent traveling in Europe and North America, I found out that "Haunted House" is a favorite in my repertoire (especially in Germany!). Many things have changed since I first wrote it, so I decided to record it again in 2019 but this time with the invaluable contribution of world-class musician Pablo Méndez.

–

Es una canción de amor? Es la banda sonora de un corazón roto? Si lo descubren, cuéntenme, porque yo todavía no lo tengo claro. El hecho es que mientras trabajábamos con el ingeniero y productor Ariel Schlichter en el lanzamiento de mi disco Unterwegs (2020), algo acerca de "Haunted House" nos dió la sensación de que pertenecía a un universo distinto y que necesitaba ser lanzada por separado.

La canción fue escrita en colaboración con mi hermana Guadalupe en 2014 para su proyecto Songs for Runaway Girls, la banda sonora de su novela Air Carnation (Book*hug Press, Canadá, 2014). Yo estaba en mi veintes y su invitación fue una gran oportunidad para demostrar mi compromiso con mi obra llevándome a pensar que mi sueño de convertirme en un compositor era en verdad posible.

En los últimos años desde el 2018 que pasé viajando por Europa y Norteamérica, descubrí que "Haunted House" es una favorita dentro de mi repertorio (¡especialmente en Alemania!). Muchas cosas han cambiado desde que la escribí, así que decidí regrabarla en el 2019 pero esta vez con la contribución invaluable del gran músico Pablo Méndez.

About Julián Muro
Singer, guitarist, composer, and poet Julián Muro has released two albums: Dingungu, mainly instrumental, focused on highlighting the African presence in Argentina's traditional music, and Unterwegs, with songs from the Latin American repertoire, both with Pablo Méndez (Dee-Dee Bridgewater, Tryo, Sapho, among others). A New Music USA Awardee, he is working on his third album, produced by Dave Douglas in NY.

His wide-ranged artistic imprint has earned him the Raul Urtasun-Frances Harley Scholarship and the John W. Kieley Endowment to participate in the Banff Centre's Banff Musicians in Residence program (Canada) in 2018 and 2019, respectively. As a musician and spoken word artist, he has appeared on albums in the US, Canada, Australia, and Argentina. A selection of his poetry was published in the anthology Breve Tratado del Viento Sur (Colombia).

He is studying for a Master's of Music at the New School (NY) through a full Merit Award. In 2021, he received an Award for Excellence in Climate, Environmental Justice, and Sustainability from the Tishman Center for his interdisciplinary project La Tierra, una criatura, in which field recordings and poetry are used as the starting point for musical improvisation and creation.

He is from the mountains of the south of Argentina, which he left due to political and economic reasons, and has had an itinerant life ever since. A naturalist, a traveler, and a contemporary troubadour, he has worked in the mountains of the Alps and the Andes as a porter and a hut-keeper and has been a gardener since childhood.

https://julianmuro.com

Songwriter
Musician
Singer
Producer
Writer
Corite is a fan funded marketing platform where artists and fans come together for a common goal. Find a fan campaign you like, make a contribution and get paid for one year when it's streamed, based on the size of your share. Backing a fan campaign means supporting dreams, independent artists and contributing to a more transparent and sustainable music industry. And remember music is a work of art, this isn't Wall Street.