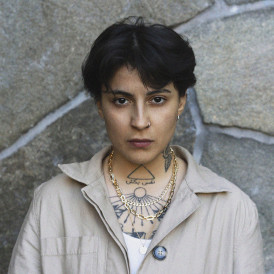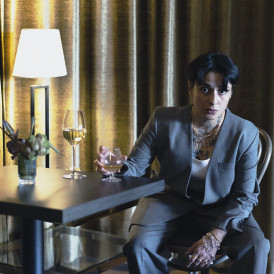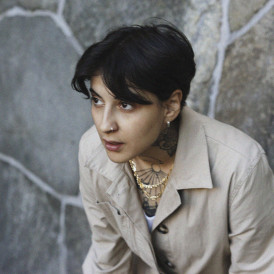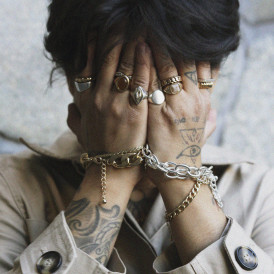 Jag är taggad och nervös på samma gång att få släppa min nästa låt, "All In Time", tillsammans med er.

Jag har valt att donera 50% av intäkterna i kampanjen till Roks (Riksorganisationen för kvinnojourer och tjejjourer i Sverige). Roks är en organisation som förbättrar villkoren för utsatta kvinnor runt om i landet. Organisationen ordnar träffar och utbildningar för alla som jobbar på en kvinnojour eller tjejjour.

Besök https://roks.se för ytterligare information om organisationen och vad DU kan göra för att hjälpa våldsutsatta kvinnor i Sverige.

Om ni backar den här låten, kommer ni inte bara backa mig i min musikaliska resa, utan även bidra till ett bättre samhälle. Anledningen till varför jag valt att donera hälften av kampanj-intäkterna just hit kan ni läsa mer om under "Music".

//

I'm so excited and nervous to release my next song "All In Time", together with you.

I've chosen to donate 50% of the raised money in the fan campaign to Roks, a national organisation for the women shelters in Sweden.

Read more about the organisation and what YOU can do to contribute to help women exposed to violence: https://roks.se/about-roks

If you back this song, you will not only support me in my musical journey, but also contribute to a better society. You can read more about why I chose to donate half of the campaign revenues to Roks below.

Money will be spent on:
Charity & Marketing
About the music
"All In Time" handlar om känslan av att längta till något större, bättre och finare. Här möts svensk hip hop och pop rock i en dänga som tar med dig på ett melankoliskt lyckorus. Låten är producerad av Albin Tengblad.

"Låten skrevs under en rätt omständig period i mitt liv. Min syster och hennes fyraåriga son fick flytta till ett skyddat boende. Inte långt efter fick min mamma flytta till ett annat. Det har varit en stor omställning för hela familjen att tappa vår trygghet på så kort tid.

Jag vill ändå tro att många kan relatera till känslan av hopplöshet någon gång under sitt liv. Jag vill med låten lyfta så många hakor jag kan. Allt kommer bli bra till slut. Sluta aldrig kämpa."

//

"All In Time" is about the feeling of longing for something bigger and better. Swedish hip hop and pop rock meets in the same track, that takes you to a melancholy bliss. The song is produced by Albin Tengblad.

"I wrote the song during a difficult period in my life. My sister and her four-year-old son had to move drastically to a sheltered accommodation. Shortly after my mother had to move to one as well. It has been a big change for the whole family to lose our security in such a short time.

I still want to believe that many can relate to the feeling of hopelessness at some point in life. With the song, I want to lift as many chins as I can. Everything will be fine in the end. Never stop fighting."

About nikola
Nikola Ameli (nikola) är en låtskrivare och artist bosatt i Stockholm. Hennes musik inspireras av modern trap och svensk poprock, vilket ger hennes låtar en unik sound.

"Jag öppnar upp min euforiska och melankoliska värld, gärna på samma gång. Det resulterar oftast i en rätt udda sound som gör den sköra linjen mellan vackert och mörkt nästan obefintlig. Jag låter alla känslor i stunden uttryckas i en gemensam ensemble till samma takt."

Hittills har Nikola släppt singeln På mig nu (2020), men släpper nu ny musik hösten 2021 tillsammans med Corite.

//

Nikola Ameli (nikola) is a songwriter and artist living in Stockholm, Sweden. Her music is inspired by modern trap and Swedish pop rock, which gives her songs a unique sound.

"I open up my euphoric and melancholy world, preferably at the same time. It usually results in a rather different sound that makes the fragile line between beautiful and dark almost non-existent. I let all my emotions in the moment be expressed in one ensemble, with the same beat. "

So far, Nikola has released the single "På mig nu" (2020), but is now releasing new music in the autumn of 2021 together with Corite.

Songwriter
Singer
Corite is a fan funded marketing platform where artists and fans come together for a common goal. Find a fan campaign you like, make a contribution and get paid for one year when it's streamed, based on the size of your share. Backing a fan campaign means supporting dreams, independent artists and contributing to a more transparent and sustainable music industry. And remember music is a work of art, this isn't Wall Street.