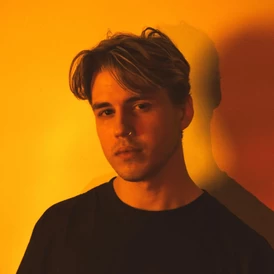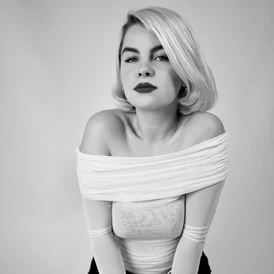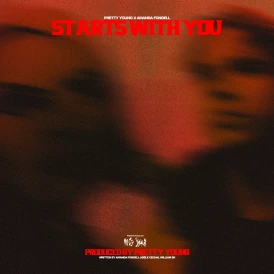 Swedish electronic indie pop producer PRETTY YOUNG has joined forces with renowned artist Amanda Fondell.

Their creative journey began on a chilly winter day in Stockholm, when they came together in PRETTY YOUNG's studio to pen the prelude and verses. With their talents combined, they then invited their talented friend Adéle to assist in perfecting the chorus.

As a thank you for joining and supporting our music, you are invited to Amanda Fondell's release party on May 26th in Stockholm. The invitation and further information will be sent via email. See you there!

We hope you enjoy listening to the song as much as we enjoyed creating it. Thank you once again for being a part of our journey and for supporting our music.

Money will be spent on:
Production
Video
PR
About the music
"Starts With You" is an upfront pop song, as commercial as it is indie. The song kicks off with a groovy beat and '70s influenced synths, which immediately gets the blood pumping.

When Amanda's unique voice then enters, low and centered, it feels like she's bringing the listener on to a journey.

The song has a big and danceable pop chorus, which creates a perfect combination between the two worlds; the pop groove of PRETTY YOUNG meets the unexpected and wistful of Amanda Fondell.

"If you want to change something in your life, it always starts with you. In the lyrics, I'm describing my own doubts, at the same time as I want people who listen to feel empowered by it. I wish to express the feeling of 'you've got it all in you already, you simply just need to find it and trust it!'"
- Amanda Fondell

"'Starts With You' was not a straight bullet for me, I think I made three versions of it before I felt that it had found its home. It was wonderful to work with Amanda on this song, and I think we found a sound that fits us both very well."
- PRETTY YOUNG

About PRETTY YOUNG, Amanda Fondell
PRETTY YOUNG (aka William Ek) is an Electronic Indie Pop producer from Stockholm, Sweden.

His music blends electronic beats, catchy melodies and heartfelt lyrics to create a unique and innovative sound that's making waves in the industry. PRETTY YOUNG has been passionate about music since he was at a young age, experimenting with electronic music production to draw inspiration from a wide range of musical influences; from Classic Pop to Contemporary Electronic artists.

PRETTY YOUNG has had some radio success through the past years, not to mention with his remix of Jaymes Young's song "Infinity" (+28M streams). PRETTY YOUNG's remix of the song was placed as #2 on Polish National Radio and hit Top 10 on National Radio stations across Spain, Germany, Finland and Russia. The remix has also been played by BBC Radio 1 in the UK.

PRETTY YOUNG's version of Echosmith's "Cool Kids" was placed as #25 on the Swedish Commercial Radio list and B-listed on NRJ and RIX FM. Both "Out Of The Blue" and "Southbound" were playlisted on Swedish National Radio P3 last year.

Amanda Fondell possesses one of the most unique voices in Sweden. Through her 12 year long career, Fondell has been releasing music on the major labels as well as independently. She's signed a global publishing deal with BMG Rights Management in Germany and is a rising star on the local grounds, as well as she's starting to build momentum internationally, not to mention since her songwriting and vocal contribution on the song "Barricade" (2016) by five times Grammy nominated and award-winning DJ and producer Axwell (Swedish House Mafia).

Amanda stepped right into the limelight when she, at the age of only 16, won the Swedish Idol competition back in 2011. Amanda quickly adapted to the life in the spotlight as if she was born to be in it. To date, Amanda has released two full-length albums, where the debut album "All This Way" has achieved Platinum in Sweden. Apart from that, Fondell has three EP's and several features for Electronic Pop/House artists and producers in her catalogue, such as works for Swedish Grammy & P3 Guld nominated Kasbo on "Roots (feat. Amanda Fondell)" (2018) and "About You" (2018), Axwell on his hit song "Barricade" (2016) and Swedish Electronic producer Didrick on the well-received "Smoke" (2016).

Taking some time to fully concentrate on a new sound, Amanda's been spending most of her time in the studio the past year and is now ready to reveal the new path for her artistry in 2023.

"Starts With You (feat. Amanda Fondell)" with PRETTY YOUNG will be leading up to a new world of Amanda Fondell, which will take shape during the Autumn of 2023 with the new music being dropped.

Songwriter
Musician
Singer
Producer
Corite is a fan funded marketing platform where artists and fans come together for a common goal. Find a fan campaign you like, make a contribution and get paid for one year when it's streamed, based on the size of your share. Backing a fan campaign means supporting dreams, independent artists and contributing to a more transparent and sustainable music industry. And remember music is a work of art, this isn't Wall Street.