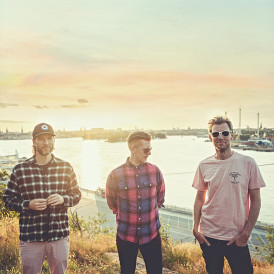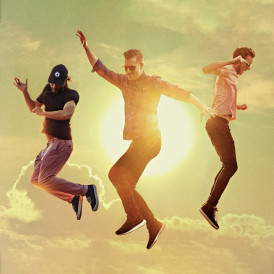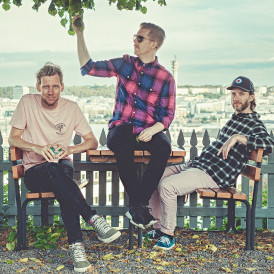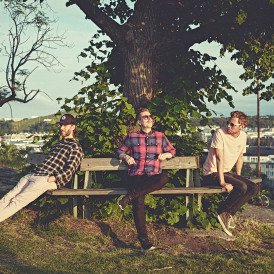 👋 This is beyond exciting, we're thrilled! So happy that you - our fans, followers and friends are here to be a part of our music and this campaign. Together with YOU we will release our new single 'Förgörelsen' June 4th.🖤 A song that we are very passionate about that has required blood, sweat and tears for the past six months.

It's all a very sweet deal. By funding this campaign, you get a piece of the revenue from all streams and at the same time the money raised will be spent on promotion, advertising and connecting with blogs with the aim of reaching our streaming goal.

Let's make this happen - together! Thank you for supporting and backing us! 🙏

XO
Alex, Erik & Christoffer 😘

**********

👉 instagram.com/skyddsnatet
👉 skyddsnatetmusik@gmail.com

📸 Photos by Christopher Broman Tak

**********

👋 Peppen är total, vi tycker detta känns sjukt kul! Vi är så glada att ni - våra fans, följare och vänner vill vara en del av vår musik och den här kampanjen. Tillsammans med DIG släpper vi 4 juni vår nya singel 'Förgörelsen'. 🖤 En låt vi känner otroligt starkt för som har krävt blod, svett och tårar under ett halvårs tid.

Detta är en väldigt sweet deal. Genom att investera i låten får du en del av intäkterna från alla streams och samtidigt kommer de insamlade pengarna användas till marknadsföring, reklam och kontakt med bloggar i syfte att nå vårt streaming goal.

Låt oss göra det här - tillsammans med er! Tack för att ni stöttar och backar oss! 🙏

XO
Alex, Erik & Christoffer 😘

Money will be spent on:
Ads
PR
About the music
'Förgörelsen'' is about being in a toxic relationship with a person who makes you doubt your mental health and when the realization that you need to escape from that relationship arises. The lyrics and the mood of the song are melancholic to say the least, but there is also a small streak of hope that seeps out.

The text is self-experienced and this is how Alex describes it:

"A few years ago, I was in an extremely stormy relationship. I began to realize that not everything was right. Sudden insults for small things had long been common, as well as sarcasm to push me down. I was broken down to the core. However, the intoxication I experienced when I got her tenderness and intimacy erased all insight and self-respect.

When I told her at the end of our relationship that I would be investigated for ADHD, she said that I was rather spoiled and probably a psychopath. I was terrified that it was true so I went home and did all the self-tests you can do to find out if I was a psychopath, but all the tests showed the opposite. A friend then explained to me that I probably had a relationship with a narcissist. Another friend said I had been gaslit. I had never heard the term before but after a quick googling I understood what I had been through.

An ADD diagnosis, antidepressants and a fantastically healthy relationship later, I have finally managed to do something creative out of this darkness. When Christoffer played his demo of this song, I immediately felt that I had to write the lyrics to it. The melody in the chorus really grabbed me and I'm still as fascinated by the song now as I was then. "

Violinist Tomas Ebrelius (Roxette, Thåström, First Aid Kit and others) plays on 'Förgörelsen'.

Written and produced by:
• Christoffer Englund
• Alexander Avelin
• Erik Östholm

Violin and string arrangement by Tomas Ebrelius

Mastered at Cosmos Mastering, Stockholm

Release Date: June 4, 2021

**********

'Förgörelsen' handlar om att vara i en toxisk relation med en person som får dig att tvivla på din mentala hälsa och när insikten att du behöver fly från det förhållandet uppstår. Texten och stämningen i låten är minst sagt melankolisk men det finns också en liten strimma hoppfullt ljus som sipprar fram.

Texten är självupplevd och så här beskriver Alex den:

"För några år sen befann jag mig i en extremt stormig relation. Jag började inse att allt inte stod rätt till. Plötsliga utskällningar för småsaker hade länge varit vardag, likaså spydigheter för att trycka ner mig. Jag bröts ner till grunden. Men ruset jag upplevde när jag fick hennes ömhet och intimitet raderade ut all insikt och självrespekt.

När jag i slutet av vår relation berättade för henne att jag skulle utredas för ADHD sa hon att jag snarare var bortskämd och troligen psykopat. Jag blev livrädd att det stämde så jag gick hem och gjorde alla självtest man kan göra för att ta reda på om jag var psykopat, men alla tester visade på det motsatta. En vän förklarade då för mig att jag förmodligen hade en relation med en narcissist. En annan vän sa att jag hade blivit gaslightad. Jag hade aldrig hört begreppet tidigare men efter en snabb googling så förstod jag vad jag varit med om.

En ADD-diagnos, antidepressiva tabletter och en fantastiskt sund relation senare har jag äntligen lyckats göra någonting kreativt av detta mörker. När Christoffer spelade upp sin demo av den här låten kände jag direkt att jag måste skriva texten till den. Melodin i refrängen riktigt grep tag i mig och jag är fortfarande lika hänförd av låten nu som då."

På 'Förgörelsen' medverkar violinisten Tomas Ebrelius (Roxette, Thåström, First Aid Kit mfl.)

About Skyddsnätet
You have probably already heard the voice of singer Christoffer Englund before Skyddsnätet. He's the voice behind the magic song 'Tiny Grain' in the somewhat legendary commercial for Arvid Nordquist's coffee.

Skyddsnätet write songs without any musical boundaries. We have a loose approach in terms of what we get inspired by, style of sound and musical genres. If we like something, we like it. Anyone in the band can be writing lyrics, playing an instrument or creating a beat. In our studio there are no rules. Well, there are a couple of rules. Don't drink Alex's Coke and never tune Erik's snare drum.

Our first single 'Dödsorsaken' took off the first couple of days after it was released last year with thousands of streams and got added to a bunch of playlists. Zero Music Magazine picked it as one of the best songs of 2020.

**********

Du har antagligen redan hört sångaren Christoffer Englunds röst innan du hörde Skyddsnätet. Han är rösten bakom den magiska låten 'Tiny Grain' i den numer legendariska reklamen för Arvid Nordquists kaffe.

Skyddsnätet skriver musik utan några musikaliska gränser. Vi har ett löst tillvägagångssätt när det gäller vad vi blir inspirerade av, stilar och genrer. Om vi gillar något, gillar vi det. Alla i bandet kan skriva en text, spela ett instrument eller skapa ett beat. I vår studio finns inga regler. Jo förresten, det finns ett par regler. Drick inte Alexs Cola och stäm aldrig om Eriks virveltrumma.

Vår första singel 'Dödsorsaken' lyfte redan de första dagarna efter att den släpptes förra året med tusentals streams och blev addad på ett gäng spellistor. Zero Music Magazine valde låten till en av de bästa låtarna 2020.

Songwriter
Musician
Singer
Producer
Corite is a fan funded marketing platform where artists and fans come together for a common goal. Find a campaign you like, make a contribution and get paid for one year when it's streamed, based on the size of your share. Backing a campaign means supporting dreams, independent artists and contributing to a more transparent and sustainable music industry. And remember music is a work of art, this isn't Wall Street.