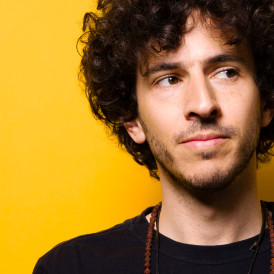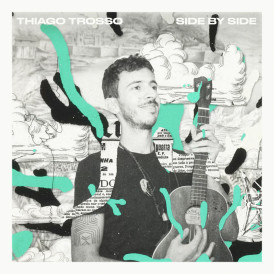 Hi, my name is Thiago Trosso, songwriter and artist from Brazil, based in London.

After years writing and performing with my bands, I released a solo album in 2021, all self produced and promoted. With the great results achieved I've decided to start releasing music regularly, and 'Side By Side' will be the first of many singles to be out into the world.

The main obstacle when releasing music is actually getting it to peoples ears, and this campaign will help me to hire a professional PR support and do proper promotion to take the project further.

Money will be spent on:
Ads
PR
About the music
Side By Side is a track dedicated to all that believed in someone as a partner in general, be it for business, love, friendship, trusted them to open up as the relationship developed, but kept bumping into lack of trust and vulnerability. We can achieve more together but it depends on both sides.

About Thiago Trosso
Thiago 'Trosso' is a music artist born in Brazil, based in London. Finding the balance between songwriting, writing for sync, performing and producing he has been developing a successful career, recognised in different parts of the world, with a vast catalogue of songs signed by labels and libraries, and a growing number of placements in films and cuts with other artists, and a very impressive presence in live music.

Combining his love for alternative and pop music with his multi-instrumentalist and producing skills, Trosso crafts unique sounding melodies and arrangements that caught the attention of labels like Bad Time Records and 10 West Music, resulting in the signing and releasing of 2 full albums, and also from music libraries all around the globe.

Since 2003 being a part of the Ska/Punk/Reggae scene, sharing stages with many of his idols, and playing as a session musician in his home country, he moved to the UK in 2015 to expand his musical and personal boundaries.

With the goal of building a career as a songwriter and solo artist, Thiago Trosso joined and finished a Masters Course in Songwriting at ICMP London, improving his overall skills, opening the path for co writing with numerous artists around the world, and establishing himself as a writer for sync, whilst still being active in the Ska Punk scene, having toured in 13 countries in 4 different continents with his bands Abraskadabra and Popes of Chillitown.

Also having a background in mixing and mastering, most of his solo and collaborative work came to life at his home studio.

Songwriter
Musician
Singer
Producer
Corite is a fan funded marketing platform where artists and fans come together for a common goal. Find a campaign you like, make a contribution and get paid for one year when it's streamed, based on the size of your share. Backing a campaign means supporting dreams, independent artists and contributing to a more transparent and sustainable music industry. And remember music is a work of art, this isn't Wall Street.