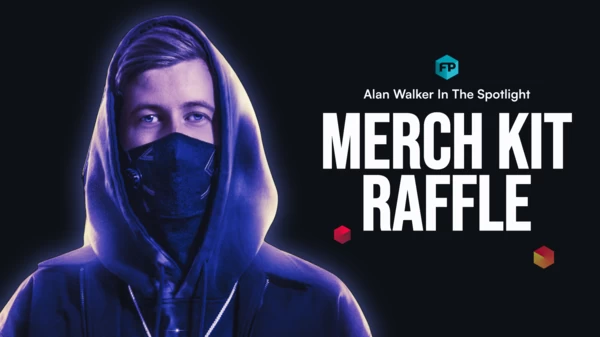 Alan Walker Merch Kit Raffle
Alan Walker is In The Spotlight, and from September 26th to October 26th 2023 you have the chance to participate and win official Alan Walker merch.

How to participate:
Complete Missions
Earn 1000 Fan Power
Claim as many raffle tickets as you can
Winners will be contacted via email connected to your Corite account before end of October
Terms
Duration: The raffle will start September 26th 12:00 PM UTC and conclude on October 26th at 11:59 PM UTC.
Participation: During this period, users will have the opportunity to acquire raffle tickets from Corite's reward shop for 1000 Fan Power each. Participants are free to redeem as many tickets as they desire, thereby increasing their chances of winning.
Winners: A total of 5 fortunate winners will be selected randomly at the end of the raffle. All winners will be contacted via email before October 31st following the raffle's closure. Winners will be announced on x.
User Responsibility: To ensure smooth prize delivery, please remember to keep your shipping address up to date in your Corite profile. Please note that Corite holds no responsibility for any shipping errors or issues.
Disqualification: Corite reserves the right to disqualify any participant who violates the competition rules or attempts to manipulate or disrupt the competition in any way.
Corite's Liability: Corite maintains the right to disclaim responsibility for any shipping errors or other unforeseen circumstances.
Please be aware that Corite reserves the right to modify or amend these rules at any time without prior notice.
Corite reserves the right to the final interpretation of this event. If you have any questions, please contact our support at corite.com.
Shipping and fees: Depending on your country, you may be charged customs/import fees. Customs charges and fees are the sole responsibility of the user; we are not responsible for any additional customs charges or fees once your package has left our facility. If you are unfamiliar with customs fees and charges, please contact your local postal or customs office for more information. We do not ship to North Korea, Ukraine or Russia.