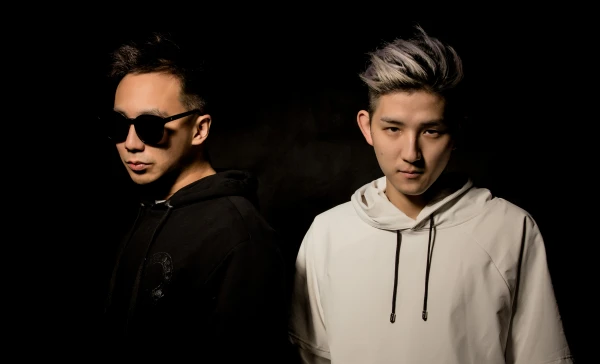 An Interview with Future of Dance Awardee GISHIN
GISHIN (formerly Ghost), comprising Tom and Ronin, found their way into the dance music scene almost purely by accident. They first crossed paths in New Zealand in early 2017 through mutual acquaintances. Tom worked as a bartender at a club, and Ronin was flown in to assist with venue programming for a new club opening at the time. At that point, neither of them had contemplated becoming EDM artists, despite their early backgrounds in various music genres. After concluding his stint in New Zealand, Ronin was offered an opportunity to join a larger nightlife organization based in Shenzhen, China. Tom decided to take up DJing and joined Ronin in China in late 2018. During this period, EDM was gaining global popularity, and they had the privilege of witnessing some of the biggest names in EDM perform at their venue, which inspired them to form GISHIN in early 2019.

In the ever-evolving world of dance music, few names have recently garnered as much attention as GISHIN. Recognized as the Future of Dance awardee by Corite and 1001Tracklists, this dynamic duo has been making waves in the EDM scene. Our very own Emelie Olsson sat down with them to delve into their journey, their unique sound, and their connection with fans.
E: How would you describe your unique style or sound in the dance music genre?
G: When we initially started, we dabbled in all types of sounds and styles. Due to being locked down for 3 years during COVID-19, we were then forced to sit down and dig into the styles of music we liked. This has resulted in a fusion of our early influences in rock music together with more energetic EDM beats. This hybrid sound has become the main focus for all our releases moving forward, starting October 20th, 2023, with our collaboration with another well-known Melodic bass artist SABAI, and our EP scheduled for release on Den Haku Records later in the year. Most tracks will also feature Ronin's vocals.
E: The dance music scene is known for its vibrant and diverse culture. How do you stay connected with your fans and the broader community?
G: We've previously tried to stay connected to our fans by creating content based around our shows and events we participate in and sharing them on social media. Moving forward, we are looking to create a more immersive experience sharing the process of how we create music and write songs, as well as showcasing some unique personal aspects of us via individual content showcases.
E: Collaboration is a common theme in the music industry. Can you share some memorable experiences and tips for an artist trying to get more collaborations?
G: Most of our releases so far have been collaborative projects, and we typically approach artists directly with the demos we've created to gauge their interest. One noteworthy collaboration was with Timmy Trumpet and 22Bullets on "Everybody in the Party," where the initial demo came together in our living room alongside 22Bullets, a close friend. We completed the beat and topline in a single afternoon while he was visiting us in China. We sent the demo to some A&Rs through 22Bullets' publisher, and when Timmy Trumpet expressed interest, it was a moment of great excitement for us. This collaboration eventually marked our first official release on Spinnin Records under Dharma Worldwide, and we had the privilege of sharing the stage with Timmy Trumpet at our resident venue.

Another memorable collaboration involved our upcoming release, "Harder To Breathe," with SABAI. We reached out to SABAI via Instagram DM intending to connect, as we were fans of his previous releases, particularly "Million Days." This connection led to fruitful collaboration, despite the challenges of working in different time zones and spaces during the COVID-19 lockdown period. Our advice to artists seeking more collaboration opportunities includes being prepared with a strong demo archive, selecting the best songs to showcase, approaching artists politely, ensuring that demos align with the artist's style, maintaining a decent social media presence, and persevering with a positive and humble mindset.
E: The evolution of technology has greatly impacted the production and performance aspects of dance music. Could you talk about any innovative techniques or tools you've incorporated into your music-making process?
G: Technology has greatly aided how we are able to work remotely and still put together a musical project. One of the great communication tools right now is Discord as it allows real-time communication while producing due to screen and audio sharing capabilities. Some of the most signature software emulation plugins have also allowed some of the post-processing to be done at an even more efficient pace and greater control on how we shape sounds and recorded samples - some staple plugins that we use regularly would be the Pro-Q3 EQ, UAD's CLA and API Compressions, SoundToys etc.