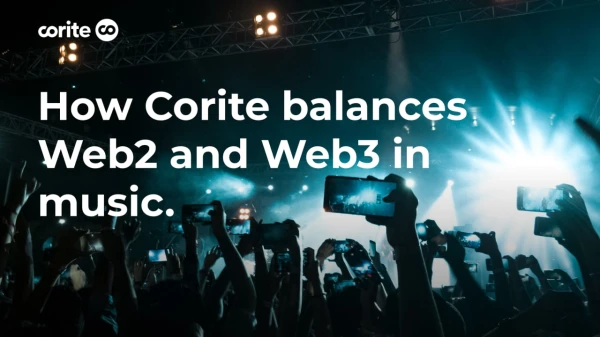 Corite balances Web2 and Web3 to deliver the best of both worlds
Corite balances Web2 and Web3 to deliver the best of both worlds
We have designed Corite as a user-friendly, familiar interface that non-crypto users can easily sign up for and use to contribute to and share in the success of their favorite artists. However, our project has an eye toward the future, a future in which cryptocurrency will play an increasingly important role. Our vision is to blend both of these elements together into a platform that remains accessible to everyone while thoughtfully harnessing the benefits of blockchain technology.
What is Web2 (Web 2.0)?
'Web 2.0' is a broad term that refers to the most of the mainstream websites used today (i.e. Facebook, Wikipedia, Ebay, etc.) that feature user generated content but are centrally governed and maintained by a business entity. Users typically have login accounts and transactions are made through third party payment processors.
What is Web3 (Web 3.0)?
'Web 3.0' is a broad term that refers to an emerging group of services that incorporate blockchain technology. Emphasis is placed on the user's ability to not only contribute to, but also influence the direction of a platform. Transactions take place through blockchains via cryptocurrency, creating a direct line of payment between the user and the protocol. In addition, many Web3 protocols have native tokens which can represent governance rights or be used to incentivize and reward users for interacting with the platform.
Pros and Cons
At Corite, we believe the correct approach is to combine the best elements of Web2 and Web3. Let's take a look at some of the strengths and weaknesses of each, and then discuss the ways we plan to harness the strengths of both models.
Web 2.0
Pros
Casual users enjoy a familiar experience, using a login name and password
Familiar payment methods such as credit cards, PayPal, Apple Pay, etc. to make transactions
When users have difficulties, they can reach out to a support team
Cons
Personal information is often collected and monetized
Third party payment systems often impose long processing times and holding periods, especially on payouts to the user
Users have limited input on the evolution of the platform itself
Web 3.0
Pros
Incoming and outgoing payments are settled immediately after blockchain confirmation
Governance tokens can decentralize the decision making process by giving stakeholders a say in future direction
Platforms can use a native cryptocurrency to reward users who contribute to the ecosystem
NFTs can be used to represent property ownership rights
Cons
Users require at least a basic knowledge of blockchain and wallet software such as Metamask
Platforms with no central custodian can become unfocused or controlled by majority holders of governance tokens
Cryptocurrencies can be subject to periods of extreme price volatility (for better or worse!)
Web2 Users
When you visit our website today, you are able to interact with the core features of the platform in a fully Web 2.0 environment. You can create an account, link a traditional payment method, and begin funding artist campaigns. Revenue shares generated from streams are tracked and accounted for by Corite, with payments being issued back to a user's original source of funding.
We have many users who are comfortable with this setup, and we want to assure those users that this core functionality is not going away. However, we also plan on implementing several new and interesting features that will require the use of blockchain and cryptocurrency. Keep reading to learn more about these features and how they can benefit everyone!
Web3 Users
With the recent integration of crypto payments via Metamask on BNB Chain (BNB, USDT, BUSD, and USDC), crypto users can now fund artist campaigns and receive their revenue shares directly on BNB chain. Users who contribute to a campaign will receive an BEP-1155 NFT token in their wallet, representing their right to the revenue shares generated by the song.
However, this is just the tip of the iceberg in terms of the crypto features we plan to implement. Before the end of Q2, we plan to launch our very own native currency on BNB Chain, $CO. The introduction of the Corite token will open several possibilities, including:
Granting token holders exclusive perks on the platform
Staking to get early access to new campaigns
Allowing token holders to vote on governance proposals
Rewarding the most active artists and fans
In addition to the above, we will also be expanding the use of NFT tokens to offer artist related collectibles, and more.
I am a Web2 person - why should I try Web3 features?
The main reason is that certain elements of our platform will only be accessible to crypto users. This isn't because we want to exclude anyone, but simply because some features require it! For example, you can't hold an NFT if you don't have a crypto wallet. You can't stake $CO tokens for bonuses if you don't have any $CO tokens, and so forth.
There are also other advantages - for example, if you process a revenue payout through Paypal it can take as long as a week before your funds clear. With blockchain, your payouts are processed in seconds and are immediately available for use.
I've never used crypto before - can you help?
Corite plans to offer simple guides for people who want to learn how to use Metamask and BNB Chain. Also, our support team will do everything we can to support our users who require a little extra assistance in the process.
We are also working on an optional custodial wallet solution for users who would rather have Corite manage their blockchain wallet (similar to how a centralized exchange works, or how PayPal holds your funds for you and allows you to interact with them via their interface). This will be a great option for users who want the benefits of crypto features without having to manage their own wallet.
Our vision - an 'open door' between Web2 and Web3
In addition to aggressively targeting the crypto user base, we also seek to accommodate Web2 users while giving them the opportunity to adopt Web3 features at any time. It will also be possible for users to mix and match in some cases - for example, they might choose to contribute to artist campaigns using Paypal but receive their revenue shares on the blockchain. Ultimately, we aim to make our platform accessible to the largest number of users possible and offer maximum flexibility for our users to show their Fan Power! Let's do this!