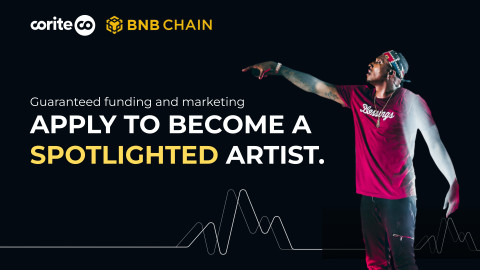 Corite x BNB chain - Apply for becoming a spotlighted artist
Corite x BNB chain - ARTIST? APPLY FOR GUARANTEED FUNDING AND MARKETING!

If you're an artist or know an artist out there who is looking for new opportunities, this is it!
Corite has teamed up with BNB chain to spotlight talented artists all over the world.
This is a unique opportunity to be positioned as an artist who operates in Web3 alongside known and rising brands.

What you will receive:
Guaranteed Funding, amount based on previous streaming history
Minimum of $1,000 guaranteed in advance from Corite when creating a fan campaign
Music Marketing
Paid marketing of the music on TikTok
Marketing support for fan campaign and release via Corite's and BNB chain's social channels
Press release and distribution via crypto PR agency
Pitch via Spotify For Artists
NFT Project
Potential collaboration with Binance NFT marketplace
Broad access to collaboration with Binance ecosystem

How to participate:
Sign up to corite.com
Connect your MetaMask Wallet
Create a Fan Campaign with your upcoming, unreleased song
Add "BNB Chain" in the message to moderators or in the song title
Send for Approval

One winner will be selected per week until July 31, 2022, and be contacted via email
Question? Reach out via https://support.corite.com/hc/en-us/requests/new