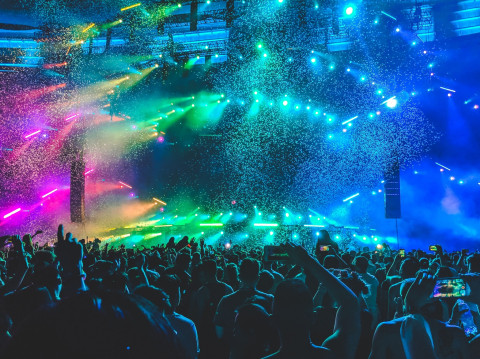 For Artists - Why Releasing With Corite Is The Best Way To Go!
There are countless reasons why campaign and distribution with Corite is the way to go. This text could have turned into a book, but let's try to keep it short and sweet:
Simple
Corite is a digital platform that lets artists get funding and marketing support from fans. In return, they share their future revenues when music is streamed. The raised funds can be used by the artist for promotion, video creation, etc. This is done in three easy steps:
1. Campaign is set up by the artist 2. Backers get a share 3. All share the success!
You get to keep all your rights & create a unique engagement with your fans
We have a 100% transparent business model and we create unique engagement between fans and artists designed to boost your music's popularity. Engagement is more important than ever before, and we've taken care of the tricky administration part allowing us to share revenues to thousands and thousands of backers in return for their support.
Free distribution and you choose the percentage of your revenues that you want to share with your fans
Distribution to all major digital stores is free, but we retain a 5% commission on all money raised on our service and on all revenues coming in from the digital stores such as Spotify and Apple Music. Yes, it's that simple! You only share a percentage of your revenues from digital streaming and downloads during a one year period. You set this percentage yourself and is an advance of your royalties. After the one year period Corite retains that 5% as long as you continue to be part of our service.
We are always here for you
Even though you are already signed to a record label, it's possible for you to release with Corite. We offer free distribution, because we want to make it easy for artists but also to get daily trend data that artists and backers can follow once it is released. If you're signed to a record label, it's really up to the deal you have with them as we only want the data to share with your backers. Message us and we will work with you to set it up.
You can transfer your music from another distributor to us
You can transfer your music from another distributor to Corite and keeping the song's streaming count is totally possible. Better still, you can create a Corite campaign at the same time or go with a distribution only plan.
Collected funds will be provided to you
So far, 85% of our campaigns has been fully funded. Still, any funds that have been collected will be made available to you provided we have all the data and music we need. However, if you've set your campaign to have a fixed goal it's all or nothing and the money will then be paid back to the backers. Before that happens they will be presented with other campaigns they may want to back instead. Any share of your future royalty would naturally be yours to keep and you are free to distribute your song using some other service.
We will provide you with marketing and support
This is what Corite is really about as we're allowing true fans to support music they love by investing in it. As we're sharing trends, updates and challenges with everyone involved, chances are higher that you and your fans can supercharge your marketing together. New campaigns will be shared with Corite users that we believe would be interested in your campaign based on what they've supported before. This way, we'll be stronger together.
Special love for special talents
Corite will handpick artists that we'll give some extra love. We wish we could promote all artists that release their music with us, but we only have so many arms and brains. We can provide help with PR planning and execution, add you to our playlists, help you create your campaign, push your music on social media and our own marketing campaigns.
Welcome to your new favorite platform - where fans and artists join forces!
Team Corite