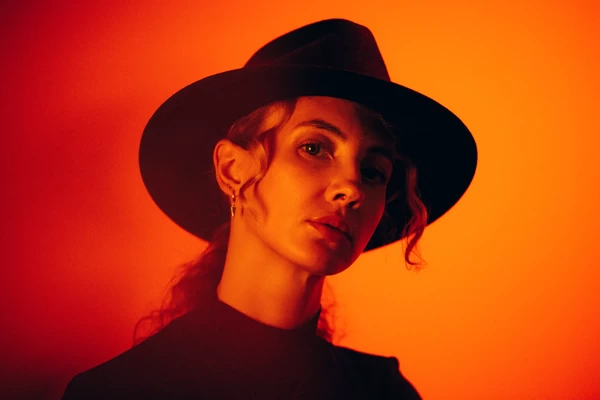 Future of Dance Awardee: EMJIE
In this interview we had the pleasure of speaking with EMJIE, an exceptional talent in the world of electronic music. Recently recognized as an awardee of Future of Dance for April, we delve into EMJIE's music career, her creative process, memorable experiences, upcoming releases, and plans for the future. Join us as we explore the journey of this passionate and dedicated artist. Let's embark on this captivating musical conversation with EMJIE.

Mio: Hey EMJIE, first of all, congratulations on being chosen as an awardee of Future of Dance for April month! We're excited to learn more about your music career, So l'll go back to the beginning.
Can you tell us about your music background and how it all started?
EMJIE: In 2016, I attended my first techno festival in Amsterdam and fell in love with electronic music. Three years later, I pursued DJing and set up a small studio in my bedroom to experiment with electronic music production.
After two years of hard work, I released my debut EP, "Sonic Identity," on the label "Not Another." The EP received strong industry support and opened doors for more releases, including remixes and collaborations.
Establishing myself in Belgium, I played at renowned festivals like Tomorrowland, Paradise City, and Wecandance, as well as popular clubs such as Fuse, Kompass, and Ampere. I also had the opportunity to perform in exciting places like Tulum, Ibiza, Düsseldorf, Barcelona, and Porto.
Mio: That's an amazing journey. Now, let's talk about your creative process. How would you describe it, and how has it evolved over time? Additionally, how do you stay inspired and motivated to create new music, especially when facing creative blocks?
EMJIE: Creativity has always been a fundamental part of my life. Whether it's the way I dress, express myself, or create art, I'm always brimming with crazy ideas and eager to learn new things. I find inspiration from the outside world and the people who gravitate around me. Traveling to different cities, attending original events, meeting new people, discovering fresh artists, and exploring various genres all contribute to my creative process.
Luckily, I haven't experienced a severe creative block thus far. However, I'm sometimes limited by technical aspects or the challenges of dreaming too big.
Mio: It's great to hear you have a strong sense of creativity and are continually evolving. Can you share a memorable moment or experience from your career that has significantly impacted you and your music?
EMJIE: There's one particular moment that stands out in my mind. During the pandemic when gatherings were prohibited, I decided to invite my friends over for my birthday party. What was meant to be a small get-together turned into a full-blown illegal rave in a cave. It had been months since we had the chance to celebrate life, and we had the most incredible time. We partied for hours and danced like there was no tomorrow.

Playing an exclusive and intimate set in front of my closest friends during that event was a profound experience. It became one of the highlights of my life as I realized that music was an integral part of my identity. It was at that moment that I committed myself even more passionately to my craft, vowing to give everything I could to play more and produce my own sound. I wanted to share the joy and bliss of those little party moments with others, which ultimately inspired the name of my debut EP, "Sonic Identity.

Mio: let's talk about your upcoming plans. Do you have any releases planned? Can you tease us with some details?
EMJIE: Absolutely! This summer is shaping up to be quite busy in terms of both shows and new music. I have a single planned for June 21st, which will be featured on the yearly compilation of Slow Cycle Records, an Argentinian label. I'm thrilled to be alongside other talented indie dance artists on this release. I also have an EP coming up on Phisica (Mexico), one of the trendiest indie dance label at the moment, the EP is named "Who's Talking" and will be out on June 30th! Additionally, I have a remix of Nelin's newest track scheduled to come out in July. It will be released on Stripped, a UK-based label where I previously released my latest EP, "Life at The Disco," earlier this year. Stay tuned for these exciting releases!
Mio: That sounds fantastic! We can't wait to hear your new music. Speaking of shows, do you have any upcoming gigs this summer that you'd like to share with us?
EMJIE: Certainly! This year, I'll be performing at several festivals both in Belgium and abroad. Some of the notable ones include Tomorrowland, WECANDANCE, and Extrema Outdoor. I'm thrilled to be a part of these incredible events. Here are all my upcoming dates.

Mio: That's an impressive lineup of shows! We wish you all the best for your performances. Lastly, you recently received a fund for your music. Could you tell us how you plan to allocate these funds?
EMJIE: I'm incredibly grateful for this prize, and I'd like to express my thanks to Corite and the 1001tracklist teams for their support of emerging electronic artists. With this fund, I plan to invest it in preparing a music tour in Mexico. My goal is to connect with local promoters to arrange shows and explore the vibrant music scene there. Additionally, I'm eager to collaborate with Mexican vocalists and record samples that capture the essence of this beautiful country. Mexico's deep diversity and cultural treasure will undoubtedly inspire me to create new music and share it with the world.

Mio: Thank you so much for taking the time to share your music journey and upcoming plans with us.
EMJIE: Thank you for having me!