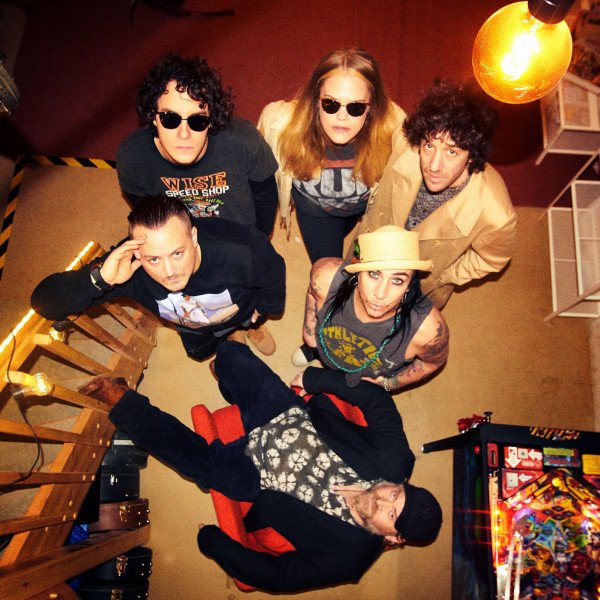 "Give My Life" by Ghost Boys with Dregen and Julia Frej out now
Ali Boulala, Magnus "Kitok" Ekelund, and Linus Nordström, collectively known as the critically acclaimed Ghost Boys, have teamed up with rock icon Dregen and indie princess Julia Frej for the release of "Give My Life." The track was recorded in the newly established Studio Vargtass (Wolf Paw) and pays tribute to the rock lifestyle.
Ghost Boys is a Swedish alternative rock group composed of skateboard legend Ali Boulala, the rapper Magnus "Kitok" Ekelund, SATOR son and director Linus Nordström. Their new single "Give My Life".
The formation of Ghost Boys came about when Kitok and Boulala, long-time acquaintances from the club scene in Stockholm, decided to create music together. They were joined by Linus, who also works as a comedian and director. Magnus contacted Linus through Instagram DMs and asked if they should start a band together.
Although the band has not yet performed live, they have already accomplished milestones that some only dream of, such as appearing on Fredrik Strage's podcast and being featured in the American Thrasher. For "Give My Life," they collaborated with singer Julia Frej and rock guitarist Dregen best known for being the guitarist of both Hellacopters and Backyard Babies.
"Give My Life" is inspired by a desire for authenticity and takes the listener on a journey through the power of music to provide meaning and joy to life. The song was co-written by Ghost Boys with Julia Frej and Dregen, and produced by the band itself.
The documentary "The Scars of Ali Boulala," which premiered at the Tribeca Film Festival in 2021, was recently nominated for a Guldbagge award. It explores Ali Boulala's past life.
Ghost Boys plans to continue working on new music throughout the year and looks forward to meeting their audience for the first time on stage soon.