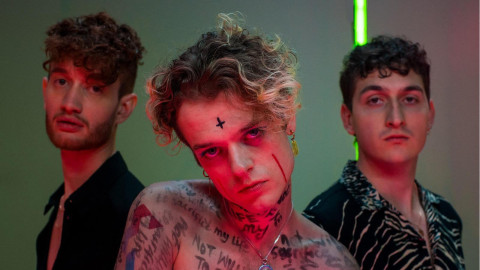 King No-One, the D.I.Y champions of the UK, joins Corite for their next release
King No-One, the D.I.Y champions of the UK, has joined Corite for their next release "Get You Right", written after Zach was seriously attacked in a street mugging. The song is a bittersweet reminder that you need to focus on and look after yourself. As UK's best selling independent guitar band, King No-One have battled their way through the industry and now stand shoulder to shoulder with major label artists on festival line ups and on tour. Now they're inviting all the people that have chanted their names at gigs and helped them gain the position in the industry they have today to get a share of "Get You Right", which will be available on all streaming platforms on September 25th.
I had the great honor to ask the band a couple of questions for you to get to know them a bit more.
Let's just get it over with - how's 2020 been treating you?
- 2020. What a year! If you think of a band like a business, which of course it really is - it's a wonder it never broke us. I've been living off of oats and crackers for too long. But this our passion, and we have an obligation to always deliver to our fans who have been so loyal to us for longer than we could've asked for.
I heard a bird whisper in my ear that you sell out all your concerts. When will I be able to buy a ticket to see you and is there any special country you're aiming for next? Except for Sweden of course!
- We do! It's quite crazy how wonderful and energetic our shows are. Essentially we're a live band, and people come from all over to see it. So we think it's time we took the show to them, we'd love more than anything to do a run of European dates and North America where our fan base is growing super fast.
The dream is to be able to tour internationally and share our thoughts and expressions with audiences worldwide.
To a new fan out there, what does your music sound like?
- It's songwriting that lasts. We love to fuse the hard-hitting elements of classic hip hop beats with guitar-driven melodies around songs that, if reduced to just a piano and vocals, hits just as hard. This latest record has an empowering yet nonchalant manner to it.
If you could have invested in one song throughout history (with your heart) which one would it be?
- Wow. What a big question. I'd have to go with 'Everything hits at once' by Spoon... Or 'The places we've roamed' by The Dancing Years!!
What will you use the money you raise from the campaign for?
- The money will all go towards promoting the record, a music video, and a PR campaign. Any leftover will be put towards our upcoming recording session.
The Corite campaign is now available for you to invest in. Listen to the song and get your share.