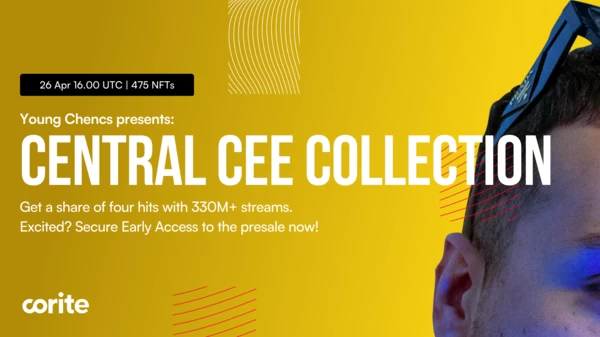 Secure Early Access to the Central Cee Collection
Corite, the Swedish music-tech startup, will host a sale of NFTs that let fans get a share of British rapper Central Cee's hits. The seller is top producer Young Chencs and includes hits such as 6 For 6 and Little Bit of This. This campaign showcases how Corite empowers producers to finance their careers through fan support while creating an opportunity for fans to be directly involved in the success of their favorite music.
Central Cee is one of British rap's brightest stars and has been nominated as British Artist of the Year in the Brit Awards after solidifying this with the major TikTok hit Doja last year. A collection of four of his hits will now be offered by their producer Young Chencs to fans on the Corite platform. This initiative not only empowers producers but also rewards fans for their loyalty and support.
The sale will be done using NFTs, and a presale will be offered for the most loyal and active fans on 26 April. Through "Missions" Fans can earn Fan Power and exchange the accumulated Fan Power for access to the presale. Young Chencs, the creative force behind the Central Cee tracks in the collection including hits like 6 For 6 and Little bit of this, said, "Giving the listeners an opportunity to put their money into music is a game-changing thing for me. It can be hard to make a living as an artist so this is a great opportunity for artists and Producers."
Young Chencs is a talented producer from Kettering who has gained recognition for his work with prominent UK artists such as Smoke Boys, Yxng Bane, D-Block Europe, M Huncho, and Central Cee. He has achieved significant success with one Gold Certification, four Silver Certifications, six UK Top 40 Singles, and a UK Number 1 Album. Young Chencs has also collaborated with various international artists and has over 205 million total Spotify streams to his name. His work has been featured on BBC Radio 1 and Capital Xtra, among other platforms. With his talent and dedication Young Chencs is undoubtedly a rising star in the music Industry.
Corite's COO and Co-founder, Emelie Olsson, a recent Forbes 30 Under 30 honouree, shared her enthusiasm: "Our mission is to democratize the music industry by empowering creators using fan power. With Young Chencs' Central Cee Collection, we're thrilled to extend this vision to include producers, the unsung heroes behind the music we adore."

By offering fan funding and Missions, Corite is pioneering a more collaborative, transparent, and equitable future in the music industry.
About the sale
The presale will start 26 April, 18.00 CET, followed by the public sale one hour later. For more information about Corite, the Central Cee Collection by Young Chencs, visit corite.com/central-cee-collection.