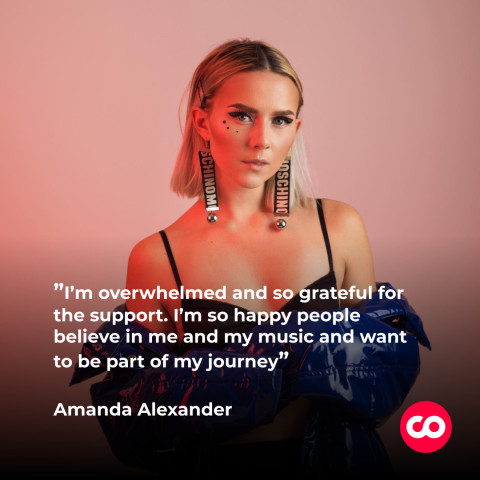 The first campaign funded at Corite reached its goal in less than 24 hours
Not even 24 hours passed before Amanda Alexander's campaign was funded. All the backers have shown huge support and finally, we have strong proof that Corite is made for artists and ruled by fans.
Amanda Alexander, 26 years old, is an artist, songwriter, and producer based in Stockholm. Amanda's campaign 'Modern Lovers' was one of the first campaigns to go live on Corite on the 2nd of October, and was the first one to become fully funded. Not only did it reach its goal, but it did so in less than 24 hours. The goal was €1350, which Amanda now has received and will use for the music video she always wanted to do.
"I'm overwhelmed and so grateful for the support. I'm so happy people believe in me and my music and want to be part of my journey", Amanda Alexander says.
Even though she did have a strong faith in Corite and the power of fan funding, Amanda was completely overwhelmed when the campaign was fully funded before the launch party even ended. Now we are looking forward to November 8th when you will be able to listen to 'Modern Lovers' in full version on all streaming services.
Were you quick enough to grab a share? Well, congratulations. You will now get paid when the song starts streaming.
Corite is a fan-funded marketing platform where artists and fans come together for a common goal. Find a campaign you like, make a contribution and get paid for one year when it's streamed, based on the size of your share. Backing a campaign means supporting dreams, independent artists and contributing to more transparent and sustainable music industry. And remember music is a work of art, this isn't Wall Street.