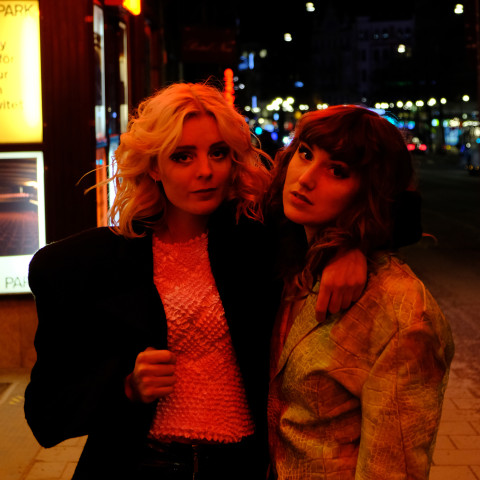 "This is the best song we've ever written", Isle Of You says
Award-winning Swedish duo Isle Of You returns after being quiet for one year with the release of "Fallback". A catchy song "straight from the heart". The campaign for the release is almost fully funded, so if you want in on this you shouldn't wait for a second! I called Elina and Ida up for a covid-safe quick chat about prison gigs and their growing love for houseplants.
E: Hi there! How are you? Any butterflies?
- We're sooo excited about this release, and especially to do it together with our fans which is incredibly amazing. And yes, we're also a bit nervous. When you're emotionally invested in a song like we are in "Fallback", you're so eager for others to like it too. But we think our fans will! This is the best song we've ever written.
E: If it's any comfort, at least I love it and I'm a fan now! Have you developed any weird or fun hobbies this year?
- Relaxing. That's our new favourite hobby. We realized the other day when we had a photoshoot, a meeting and a session scheduled, that we used to live like that every day before the pandemic. And it sucked, it's not good for your heart rate at all! Nowadays, we try to slow things down a little, and be more focused instead of being all over the place. Also, like every other millennial this year, we both have developed a love for houseplants! We're changing plant cuttings with each other like two old ladies.
E: Relaxing is a great hobby! I should try it as well. I guess the high tempo is a part of being independent. What is independence to you?
- Yes. Basically, it means a lot of work haha. But it's a way to keep everything about Isle Of You as personal as possible. We are in charge of every tiny part of the project, so everything that goes out comes straight from our hearts. It's also like a constant underdog/us against the world-feeling… we've never been the cool kids and we get a lot of power from that.
E: I assume you can't wait to perform live again! Let's take a trip down the memory lane, what's your most memorable performance on stage?
- That was definitely when we performed in a Colombian maximum security prison a couple of years ago. We went to Medellín and somehow ended up face to face with 50 former members of paramilitary soldiers and the cartel. They told us about their lives – how they started doing drugs when they were only 13, how they had seen friends die for "walking on the wrong side of the street", and then it was time for us to sing our catchy pop song. It was quite an emotional contrast, but it ended up being the most beautiful moment. We could all find common ground in the music and the power of it.
E: Wow, thanks for sharing that! That's probably my most memorable gig now and I wasn't even there. Last but not least before I let you go back to your plants, what artist and song would you have liked to invest in if you could choose freely?
- We would probably say "I love it" with Icona Pop, for so many reasons. To begin with, we are great fans of Icona Pop and the songwriter Charlie XCX. They all have that super cool iconic and real aura, and not to forget, the song is like girl power covered by great melodies. Also, we would probably be rich by now. Imagine all the houseplants we could have owned!!!

"Fallback" is out everywhere on April 16th. Get your share now and join the party before it's too late!