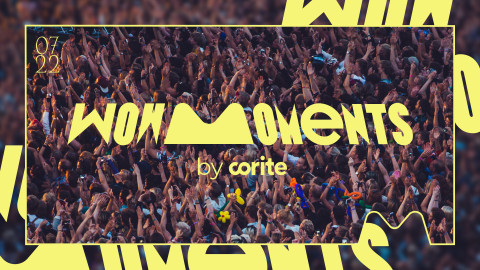 Way Out West & Corite creates NFTs: WOW Moments - will be the first in Scandinavia
Way Out West will be the first festival in Scandinavia to sell lifetime tickets in the form of NFTs, so-called WOW Moments. The sale takes place in collaboration with the fan-driven music platform Corite.
Three NFTs will be auctioned off which will give the owner VIP access to the festival for life. This year's edition of Way Out West marks the festival's 14th anniversary. After a pandemic break, this year's headliners are stronger than ever, with acclaimed acts like Tame Impala, Dave, Nick Cave and the Bad Seeds, Burna Boy, First Aid Kit, Yung Lean, Central Cee, Girl In Red, Slowthai + many more. These NFTs will be sold through a so-called dutch auction starting Friday, July 8 at corite.com/wow.
"This is a dream project for us at Corite after being dedicated Way Out West visitors for a long time. WOW Moments is about everything that makes the festival special, that is, the artists, visitors and Way Out West's ability to always be at the forefront. Our goal is to use so-called NFTs in a way that feels fun and tangible for visitors on site as well as online ", says Emil Angervall, co-founder of Corite.
WOW Moments is a tribute to Way Out West's history, from their legendary performances to the time when the festival became completely vegetarian. In addition to the three NFTs sold this week, all fans are invited to join in creating their own WOW Moments. Before and during the festival, fans can submit their best festival memories via corite.com/wow and purchase their own memories created by unique personal NFTs using AI technology. Each week, Way Out West will also select a WOW Moment that they like a little extra and reward with a three-day festival ticket.
The WOW Moments on sale will also have a chance to be shown in the digital gallery, WOW Gallery, and on the physical big screens in Slottsskogen during the festival. Through a map and an AR function in the festival's official app, users will also be able to see their and others' WOW Moments.
"We love to innovate, change and improve. This year, we welcome not only the audience back to Slottsskogen but also their memories, experiences and experiences in the form of a single large digital gallery. Festivals are about meetings of various kinds, and at the same time as we enable these, we also want our visitors to share - this is a joint experiment ", says Magnus Olsson, project manager, at the organizer Luger.
The long-awaited Way Out West festival returns this summer from 11 - 13 August 2022. More information and tickets can be found here.
About Way Out West
Way Out West - which attracts visitors from all over Sweden and also from large parts of the rest of the world - has since 2007 filled Gothenburg and Slottsskogen with music, party and culture in the three days. The program consists of the biggest world stars, the hottest newcomers, film premieres, challenging conversations, praised vegetarian food and a solid club program under the name Stay Out West which takes over on more intimate scenes at night around central Gothenburg. Since its inception, the Gothenburg Festival has hosted iconic acts such as Patti Smith, Kendrick Lamar, Arcade Fire, St Vincent, Bon Iver and Robyn.
For three days, a cultural melting pot is created in central Gothenburg and establishes the main area in beautiful Slottsskogen. The basic idea of ​​the organizer Luger has always been to create the festival that they themselves would like to visit and is not really found anywhere else in the world. With that recipe, Way Out West has annually attracted an audience of over 100,000 visitors.

Explore and get ready https://corite.com/wow/