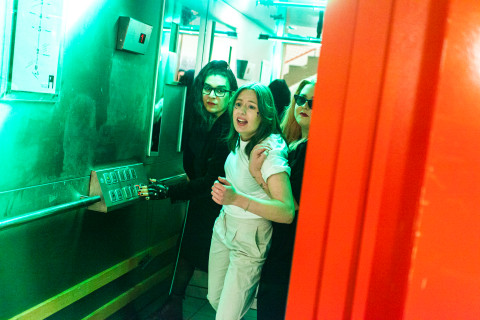 Julia Alfrida follows up after Swedish Eurovision Song Contest
A sneak peak of the upcoming music video. Photo: Amilia Soukri
Julia Alfrida became the first artist ever to fund a song that was a part of The Swedish Eurovision Song Contest together with fans. Now she is ready to open all the doors her participation lead her to. The next one is the release of 'GIRLS GIRLS GIRLS'. A somewhat provocative track with a powerful message.
Hi Julia! We're so happy to have you back on Corite for the release of GIRLS GIRLS GIRLS after the success with the release of "Rich". Looking back at the Melfest-journey, how would you describe it in three words?
J: Thank you! I'm happy to be back as well! In three words; Intense, emotional, rollercoaster!
So, now it's time for your next release! What's the story behind the making of GIRLS GIRLS GIRLS, and the lyrics?
J: I wrote the song together with three friends, and basically we just had a good time playing around with the softball reference "first, second and third base". The lyrics are very playful and funny in the sense that they are a little dirty but in a subtle and ambiguous way.
Can't wait for it to be released! Where do you get your inspiration from these days?
J: Artists and songwriters! Such as Tove Lo, Charli XCX, MØ, and I've also started to listen to Lil Nas X a lot the past couple of months. People with lots of personality and a character that stands out tend to get me inspired overall!
And with that said, I guess that answers my next question; what's your dream collab?
J: Haha, yes! Pick any from above and I would love to collab.
Fingers crossed! Do you have any fun plans for the summer yet?
J: I'm planning to and hoping for being able to spend more time with my friends because it feels like forever since we sat down and hung out and spent quality time together. Hopefully, I will also write some new music!
Sounds like a plan, and something we all long for these days too! Ok, so here's a question for you that you might need to think about for a while before answering. If you could play GIRLS GIRLS GIRLS to anyone in the world, who would you play it for?
J: Oh… I would choose Max Martin! And then study his face very carefully to see his reaction!
Ping, Max Martin! That would be a couple of interesting and maybe life-changing minutes for sure! Other than playing your music out loud for Max Martin, what are you looking forward to?
J: My release! I can't wait. And I'm very excited to release the music video for it as well. We had so much fun recording it! I hope you like it!
'GIRLS GIRLS GIRLS' is out everywhere on April 30th, and you can still get your share.